Regulatory Compliance: Administrative Review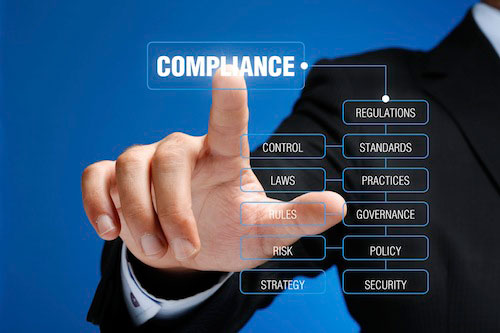 Long-term compliance goes beyond the "break-fix" attitude of finding potential vulnerabilities as they occur and eliminating them, which implies regular administrative review. It requires putting in place and regularly updating preventive measures which educate employees and provide contingency plans for the long-run. This means implementing and enforcing Policies & Procedures and training employees.
The easiest way to go about doing this is to work with a strategic partner who is a compliance specialist and is in a position to deliver frequently updated administrative review. That is exactly what US ProTech offers you.
Regulatory Compliance Training
Providing compliance services means giving your company more than just the appropriate technology enabling you to theoretically meet your regulatory standards. It means ensuring that your staff is properly trained so that they know and understand how to act both on a daily basis and in case of emergency. It means that you can be confident in your company's ability to handle any situation with the highest levels of integrity.
US ProTech does not stop at the delivery of the security processes you need but offers specifically designed regulatory compliance training modules which are:
Implemented at the beginning of our working relationship, to immediately establish awareness, understanding and responsibility
And updated periodically throughout, to guarantee that everyone in your company continues to operate according to the latest regulatory requirements and best business practices
Learning Management Systems (LMS)
US ProTech proposes multiple Learning Management Systems, each of which is the best of its kind and customized to your specific program – making our LMS offer truly unique in our market.
Linear knowledge-based systems: articulated around presentations followed by true/false or multiple choice questions.
Dynamic flash animation systems: intuitive systems that adapt the number and difficulty of question to the performance of the tester.
Hyper-dynamic computer graphic and audio systems: our most intuitive systems, which integrate video game technology for an extremely interactive experience and faster learning.
Regulatory Compliant Policies & Procedures
US ProTech specializes in developing information security policies, procedures, processes and practices to address the business requirements of diverse IT environments – from large medical enterprises and financial institutions to major industrials including the petro-chemical and organized labor. We work with a client's in-house staff to develop a custom security policy that implements the latest security procedures for companies, their employees and business partners.
US ProTech's methodology is designed to ensure a comprehensive examination of an organization's specific business and regulatory requirements. Creating a best-practices program requires security, risk and compliance expertise, but more importantly, it needs to be easy for you to implement, manage and scale.
At US ProTech, our expert security and compliance veterans will help you identify your areas of risk, and establish the business and technical requirements needed for an effective information security program.
Then we power it with the only platform Validated by the U.S. Department of Commerce so you can automate processes, implement best practices tools, and be prepared to scale.
Policy and Procedure Methodology
Step 1: Data Gathering – US ProTech's security consultant's conduct a series of in-depth interviews to understand a company's specific risks and business requirements.
Step 2: Policy Draft – Using the information obtained in Step 1, we create a comprehensive set of policies and procedures to address any areas of need identified.
Step 3: Review – Having created a draft policy, US ProTech reviews the draft with the client to ensure that all security objectives are addressed by the policy.
Step 4: Implementation – Once the client approves the policy, US ProTech delivers a final draft for implementation.
Step 5: Renew and revise as needed – US ProTech does not drop off the documents and leave!  We have detailed processes for systematic policy review that ensures you maintain your compliance and in fact managed your compliance in the process.
NOTE:  For purposes of smooth integration, the 2nd year review process is automatically included with our US ProCompliance basic package at no additional cost.
For more information or to get a quote, fill out the form on the right, or call us today!