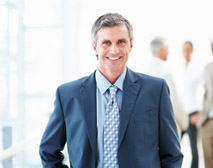 Founded in 1999 and incorporated in 2001, we started off pretty small, but grew quickly. Today US ProTech has over 25 billion dollars of client assets and information under protection and management, and is one of the most trusted, privately held, Computer Network Security & Federal Regulatory Compliance Management firms in the US.
So, how did we gain this status?
By always imparting reliable, honest and expert advice, in all circumstances.
We truly partner with our clients and provide them with the best solutions for their unique needs. We are able to do this thanks to the expertise we have in our own field, but also thanks to the in-depth knowledge we've developed about our clients' industries.
Read about our customers' experience!
Oh, there's also another reason!
We provide service, not surprises. Our goal is to always be upfront and to explain things as simply and clearly as possible. We won't try to be all mysterious about what we're doing, and we won't give you the runaround about prices.
See for yourself: call us and get a quote today!
For more information or to get a quote, fill out the form on the right or call us today!