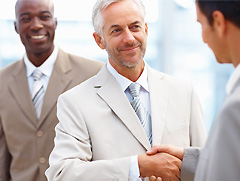 Managed services and equipment are the most cost-effective IT solution for any business. They are also the best way to gain peace of mind so that you can focus on doing what you do best, while we focus on doing what we do best.
The US ProTech Managed Services solution elevates itself even more from other "similar" offers by unique features. For instance…
·       We constantly evaluate the availability and health of various devices on any premises 24×7. We investigate incidents and take timely action to respond to threats
·       Regularly conducted Bench-Marked security analysis provides detailed Trend Analysis that differentiates US ProTech from nearly all other national providers
Managed Services are our #1 Specialty and Recommendation
BEST TOOLS
+
EXTENSIVE INDUSTRY-SPECIFIC EXPERTISE
+
MOST QUALIFIED PROFESSIONALS
=
A UNIQUE 100% SATISFACTORY EXPERIENCE
Since, for 15 years, we've partnered with local and national corporations in the medium and large business markets and who specialize in the following fields…:
•        Medical/dental
•        Legal
•        Banking/finance
•        Petro-chemical
•        Organized labor
•        Telecommunications
•        IT
•        Retail
We've come up with Managed Services and Managed Equipment solutions designed specifically to address the needs of our clients.
With these services, we make sure not only that they are able to meet their regulatory requirements or other guidelines, but we help them implement Best Business Practices:
Using the best known services, applications, architecture and information to the maximum benefit of the customer is the US ProTech approach to guiding best business practices.  Our solutions are also known to be more "tried and true" compared to "bleeding edge", and as one of the leaders in our Nation's computer network security community, we bring over 15 years of continuous professional experience to your benefit – and we insure our work with our 100% satisfaction guaranteed.
Learn more about our technical certifications!
Tangible benefits of Managed Services
Managed Services, quite simply, provide limitless benefits for you – including:
Proactive services: by proactively monitoring and providing preventive maintenance, US ProTech detects and eliminates computer problems before they occur. Our powerful and flexible managed services deliver the reliability and performance you need to ensure your business always run at the top level.
Reducing costs – time and money: for a predictable, fixed monthly rate, you can defend against loss of productivity, expensive downtime and the many related problems. Take the surprise and worry out of IT events and costs, and focus on doing business instead.
The highest level of commitment to your company: US ProTech always strives to provide the highest level of service to our customers, no matter what it is that you want us to do. But when we provide managed services, it is intrinsically in our own benefit to make you as efficient as possible: the better your systems run, the easier our job becomes.
Wouldn't it be nice to have your interests fundamentally coincide with those of your IT provider?
Customizable Managed Service Package
THE GOLD STANDARD – 20 MINIMUM EXPECTATIONS OF MANAGED SERVICES
Know what your IT is going to cost.
And know what you get for your money.
Our Managed Services include a standard 20 options. Here are some of the features we provide:
Quarterly Security Audit:  check your security status frequently to detect and be able to eliminate vulnerabilities
Security Management: control your security every day to operate at the highest security levels, with managed Firewall, IPS and other equipment
Web Console: view your environment and the status of your managed services from a web browser in real time – internally or externally depending on your requirements
Configuration Management: manage device configuration files including change, backup, restoration to reduce risks of misconfigurations and downtime caused by lost configurations
Trend Analysis Reports: see the evolution from one report to the next to build your profile data and gain limitless benefits
System Maintenance: proper and regular maintenance for your devices to ensure your systems always run smoothly and efficiently for the lowest cost
Private Cloud Backup: demonstrable, highly reliable and secure data backup and recovery solution that is professionally managed
Software Updates: ensure that your software always runs on the latest, most secure and most efficient version – avoid being stuck with issues of previous versions or obsolete versions
 For more information about our Managed Services, or a no obligation proposal, fill out the form on the right, or call us today!

For more information or to get a quote, fill out the form on the right, or call us today!