100% Predictable Pricing Guarantee for Managed Services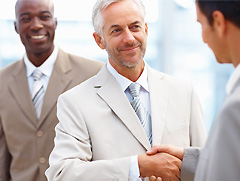 Because we use a standardized process for the exact calculation of Managed Service Contracts, you will not be surprised with special professional service invoices for all products under management.
US ProTech provides a unique fixed price for every device and its associated service. Each product is itemized, meaning that you know exactly what you are paying for and you can expand and contract what you have under management, based upon your needs, to maximize flexibility.
Furthermore the fixed price is guaranteed: you will never get additional invoices for the devices under management and you will not be charged beyond the guaranteed rate.
Actually, you may very well pay less than you expected, since many discounts are available.
With maximum transparency and predictability, get more than a provider, get a true partner. Get US ProTech.
Why don't we do "all-you-can-eat"?
Remember the last time you went to an all-you-can-eat buffet… How was the food? How was the service? And were you able to "out-eat" the restaurant?
Here's how we feel about all-you-can-eat…
You get a lower quality experience: Compare a buffet to fine dining: at a buffet you get average (at best) quality food, and little service from waiters who are stretched thin; whereas fine dining means the highest level of service and the best quality food prepared exactly as you want it.
With Managed Services, it's really the same. And US ProTech does gourmet!
You end up overpaying: all-you-can-eat may seem like a good deal, but Managed Service providers are no more looking to operate at a loss than are buffet owners. You go to all-you-can-eat and, well, all you can eat is 3lbs of food, not 5lbs, so you've actually paid for 2lbs of food you didn't need.
US ProTech does not charge you for what you don't need. In fact, we go out of our way to give you exactly what you need. Why should you have to pay for more than that?